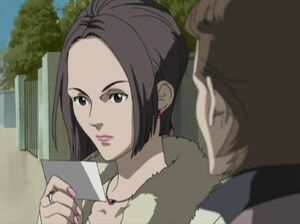 Miss Nakamoto is a daughter of an important client of Misakawa's, whom she is marrying in secret. As no news have caught the hint of it. She knew nothing of Misakawa and of him being a witch. But Nakamoto is not worried about her fiance's run-in with law, as Misakawa was arrested for beating his business partner with a blunt object. But with the lack of evidence, he was released. She is seen on Addicted to Power.
Appearance
Edit
SHe had straight, chocolate brown hair and dark eyes. Wearing little jewelry.
Nakamoto is waiting for her car to arrive, when she is aproached by Karasuma, who claims to be from TN Television. Wanting to exclusive right to cover Miss Nakamoto's wedding ceremony. While Nakamoto knows that her father would not aprove, so she asks Karasuma not to call her at home. Karasuma leaves her with a fake business card as a taxi comes to pick Nakamoto up. Using her craft to read Nakamoto's mind about what is going on. Nakamoto gets on the taxi, inside trying to call on the number on the card, only to hear that the number she is trying to call is not in service.
Her wedding begins at 10pm, before that Miss Nakamoto is seen trying on her wedding dress with a servant. While Mikawa is waiting outside. Coming out to show her dress, when she notices her fiance gone.